We are so excited to be able to offer a local missions trip to the Appalachia Mountains June 24-29, 2024. This trip is much more affordable than traveling oversees, you do not have to have a passport, and it offers hands on experience in the missions world. Please take a moment and view all the information below to learn more about this trip!

The Final Day to Sign Up will be October 29, 2023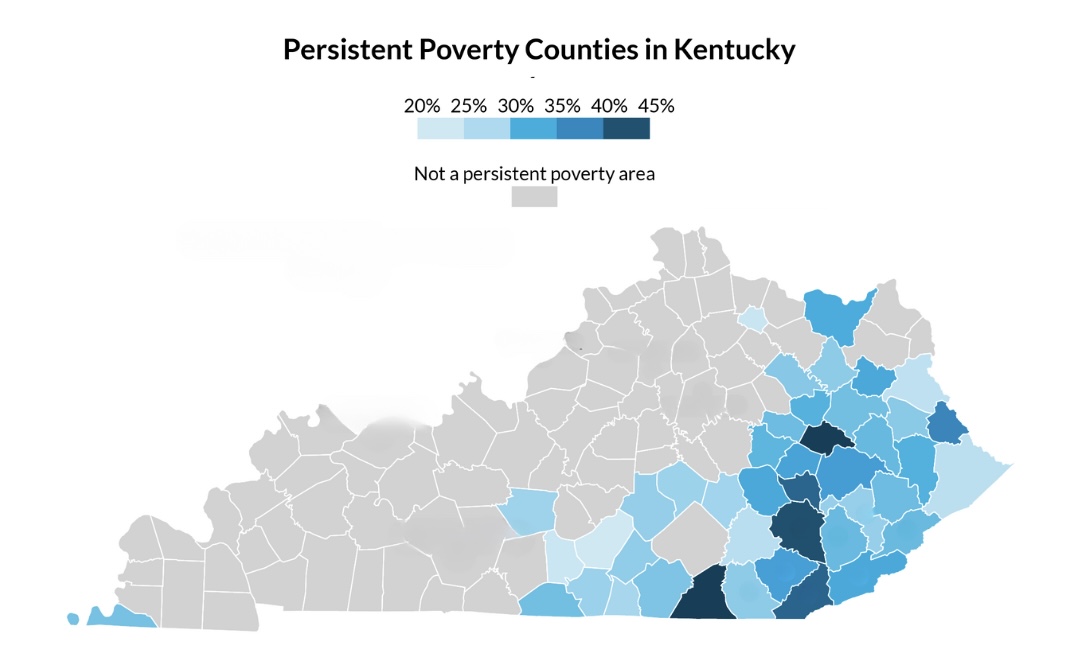 Many different types of mission teams are needed with a wide variety of skill sets to help stem the effects of
systemic and generational poverty
. According to the statistics conducted by the Appalachian Regional Commission [Jan. 25, 2019],
one out of every three
Appalachians suffers from poverty; their average income is 23 percent lower than the average level of American per capita income. McCreary County, located in Appalachian Kentucky, is the only county nationwide where most households earn less than $20,000 a year. It is the poorest county in the United States.
Southeast Kentucky is rich in history, culture, natural resources, and scenic beauty. Yet, in terms of infrastructure, healthcare, behavioral health, mortality, and economic development, the region lags behind the rest of the nation in almost every category.
The opportunities are endless when going on mission to Appalachia, as you are helping small congregations to have a larger impact in their own communities. Whether through equestrian ministry, mission Bible School and sport camps, general repairs and maintenance of homes and churches, building handicap ramps, or even through skilled construction projects, we will bring the light and the compassion of Christ to a region where many feel left behind and forgotten.
THIS INCLUDES ALL TRANSPORTATION, DELICIOUS MEALS AND SNACKS (EXCEPT TRAVELING MEALS) LODGING AT A HOTEL (4 TO A ROOM, THERE IS AN OPTION TO HAVE LESS THAN 4 PEOPLE IN A ROOM IT WOULD JUST BE AN ADDITIONAL COST), SERVICE PROJECT MATERIALS, T-SHIRT, PURIFIED DRINKING WATER, FINAL DAY RECREATION (WILL BE DETERMINED ONCE TRIP IS SECURED), AND DEVOTIONAL MATERIALS.
$50 Deposit Due By October 29, 2023
$250 Due by January 14, 2024
$250 Due by March 10, 2024
THIS TRIP IS OPEN TO ANYONE THAT WOULD LIKE TO ATTEND. IF ANYONE UNDER THE AGE OF 18 WOULD LIKE TO ATTEND AT LEAST ONE PARENT/GUARDIAN WOULD NEED TO ATTEND ALSO.
(THIS WILL BE DETERMINED BY THE GROUP THAT IS ATTENDING THE TRIP HOWEVER, HERE ARE SOME OPTIONS THAT WE WILL CHOOSE FROM)
SERVICE PROJECTS

– CLEAN UP, REPAIR WORK, AND PAINTING IN HOMES AND CHURCHES.
CONSTRUCTION PROJECTS

– SKILLED CONSTRUCTION REPAIRING/REBUILDING HOMES. VISIT HOMES OF FAMILIES IN NEED, PROVIDING SUPPLIES/BLESSING BAGS
MERCY MINISTRY

– FOOD PANTRIES AN SUPPLY DISTRIBUTION – MINISTER TO THOSE IN NEED
OUTREACH MINISTRY

– OUTREACH EVENTS, COOKOUTS, EVANGELISM, PRAYER WALKING, ETC.
SPORTS MINISTRY

– SPORTS CAMPS OR PICK UP GAMES OF SOCCER, BASKETBALL, VOLLEYBALL, ETC.
Here is a sample itinerary for a trip. Keep in mind this is a Saturday-Saturday Trip, ours would be a Monday-Saturday Trip, however this gives you an idea of what our days would consistent of on the missions trip.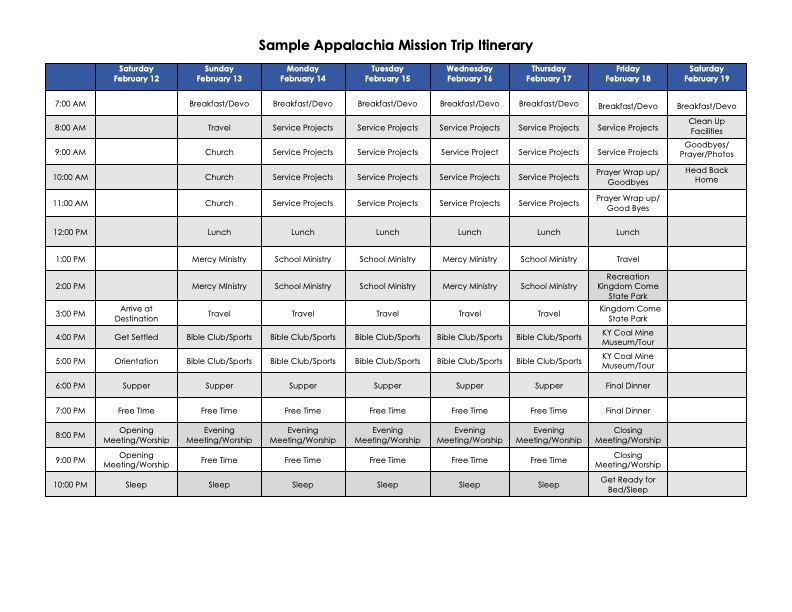 REGISTER NOW OR BY OCTOBER 29, 2023